Original Ink Drawings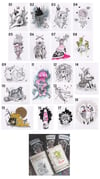 Original Ink drawings, made with Archival ink on Acid Free Mixed Media paper.
Choose from the drop down menu, sizes and prices are listed with each design.
Comes signed and numbered on the back
Cant choose just one? Like something to read on a coffee break? The Oddinkies Zine is the perfect solution. 31 drawings compiled in an A5 booklet, each image is accompanied by a short Journal style entry, song lyrics and doodles.
Zine is printed on 170gsm Silk paper, staple bound.
My first Oddinkies zine from 2017 is now available as a PDF download, never to be printed again. You can grab your digital copy to read on the go here>>> gumroad.com/helenbee
Please feel free to contact me for more information about each piece.